31st SEMI-ANNUAL SEMINAR (Spring 1968)
CALIFORNIA ASSOCIATION OF CRIMINALISTS
May 16-18, 1968
LONG BEACH, CALIFORNIA
---
AN INTEGRATED APPROACH TO A REGIONAL CRIMINAL EVIDENCE PROGRAM
John H. Stroessler, Ed.D. and William R. Partridge, North American Rockwell Corporation
This paper presents plans for an integrated approach to the definition, implementation, and evaluation of a comprehensive criminal evidence program in a specific regional area utilizing the coordinated services and facilities of participating agencies representing education and research, industry, the community, and criminal justice at city and county levels — all targeted toward the solution of practical regional criminal evidence problems with mutual cooperativeness and resulting in an integrated program which will serve as a model for general application.
The regional goals of this integrated program will be:
Provision of a comprehensive range of high quality regional criminal evidence services.
Maintenance of an adequate quantity of all required regional criminal evidence services.
Integration of individual criminal evidence service units into a coordinated regional pattern.
Additional end-products of broader scope will consist of a model criminal evidence program with general applicability, and a handbook specifying criminal evidence program criteria and specifications and procedures and methods for operational evaluation.
---
PRESSING PROFESSIONAL PROBLEMS OF THE IMMEDIATE FUTURE
Lowell W. Bradford, District Attorney Laboratory of Criminalistics, Santa Clara County
A discussion of the importance of various factors in the future development of Criminalistics Operations, which includes:
The importance of planning in the origination of new Criminalistics Operations in budding communities, A description of planning scope and the role of scope in planning.
The importance of criminalistics training in connection with teaching Qualifications, adequate teaching facilities, course content, and staff; and indoctrination in the professional aspect.
Understanding the professional nature of criminalistics
Direction of attention to harmful programs in vocational schools, which are destructive to the practice of Criminalistics.
Attention to the need for integration of space age technology into Criminalistics Operations.
The need for a prototype Criminalistics Operation and its application in the estimate of the situation as applied to newly instituted criminalistics installations.
The critical need for funding of state and local government Criminalistics Operations to implement the application of newer capabilities of Science and Technology to the problems of law enforcement and justice.
---
DIFFERENTIATION OF LOPHOPHORA FROM OTHER MESCALINE-BEARING CACTI
John E. Murdock, John I. Thornton, Duayne J. Dillon, Contra Costa County Sheriff's Office, Martinez, California
The literature indicates that several cacti contain mescaline. The principle mescaline-bearing cactus is the Peyote cactus, Lophophora williamsii, but significant quantities of mescaline have been reported in Gymnocalycium gibbosum, Trichocereus terscheckii and Trichocereus panchanoi. Other hallucinogenic alkaloids have been reported in Carnegie gigantea (gigantine) and Coryphantha macromeris (macromerine).
Representative samples of the above cacti were obtained for chemical testing, although the small size of the Trichocereus panchanoi, Coryphantha macromeris, and Carnegia gigantea prevented chemical testing of these plants. Soxhlet extractions of the other plants followed by a separation of phenolic from non-phenolic alkaloids, yielded extracts which were chromatographed by thin-layer on silica gel G using a developing solvent of 2-Butanone: N, N-Dimethylformamide: concentrated ammonium hydroxide (13:1.9:0.1). The spots were visualized by a spray of 0.05% dansyl chloride in acetone for the non-phenolic alkaloids and tetrazotized benzidine for the phenolic alkaloids. Thin-layer chromatographic data was given for mescaline, N-acetylmescaline, Anhalonine, Anhalonidine, Hordenine, and Lophophorine.
The presence of mescaline and Anhalonine was confirmed in the Trichocereus terscheckii. An equivalent weight of the Gymnocalycium gibbosum failed to reveal any detectable quantity of non-phenolic components, nor was mescaline detectable in this species.
---
REPORT ON THE IIT SYMPOSIUM
Paul L. Kirk, Kirk and Associates, Berkeley, California
A report was presented of the recent IIT Symposium on Law Enforcement, Science, and Technology. It is noted that industry is showing some interest in areas allied with criminalistics, and that it is recognized that adequate financial support of criminalistics laboratories is difficult with traditional concepts of local tax funding.
The criminalistics program of the symposium was organized into a panel session and two technical paper sessions. The panel session included a paper delivered by Lowell Bradford, and two speakers from the Goddard Space Center, in the technical sessions the following papers were presented:
(1) Latent Print Development using Silver films and plates to lift prints.
(2)&(3) Papers by Krishman and Schlesinger on the determination of gun-shot residues by Neutron Activation Analysis
(4)&(5) Two papers on pyrolysis-gas chromatography.
(6)&(7) Two papers on the polygraph.
(8) Paper by Dr. Joseph on the John Jay Study for the OLEA.
(9) Paper by Ziegler on Radioisotope excited X-Rays.
(10) Paper on Differential Thermal Analysis by Locke.
(11) Paper by McDonnell on the use of Deductive Reasoning in the resolution of a hunting accident.
(12) Paper by English of Georgetown University—New Dimensions in the Identification of Handwriting Evidence.
(13) Paper by Hammond of Georgetown University on Ink and Dye Identification.
Brief commentaries on the above papers were presented.
---
REPORT ON THE VOICE PRINT IDENTIFICATION TECHNIQUE Don Stottlemyer, State Bureau CII, Sacramento, California
A brief report was presented of the operation of the Kersta "Voice Print" Instrument, along with the experience of the speaker at a recently completed course of instruction at Dr. Kersta's laboratory. The instrument cost is presently $14,750. The course of instruction consisted almost entirely of the comparison of hundreds of "voiceprints," and comparatively little work with the actual instrument was accomplished. Dr. Kersta claims 100% accuracy in his voiceprint identifications, but has not publicized the extent or nature of the basic research behind these identifications. The time for analysis is of the order of several minutes.
---
THE APPLICATION OF MULTIPLE INTERNAL REFLECTANCE, INFRARED SPECTROSCOPY TO CRIMINALISTICS
Duayne J. Dillon and John I. Thornton, Contra Costa County Sheriff's Office, Martinez, California
An introductory explanation of the theoretical basis of Multiple Internal Reflectance Spectroscopy accompanied by definitions and distinctions of internal reflectance Spectroscopy (IRS), total internal reflection (TIR), frustrated total reflectance (FIR), and attenuated total reflection (ATR). The advantages of MIR including the lack of interference fringes, ease of sample preparation, application to micro samples and abilities to deal with liquids, pastes, solids, and powders were covered. On crystal, dilution or concentration was indicated as a major advantage of multiple pellet preparations of unknowns. Specific applications and spectra of MIR in the analysis and comparison of drugs, explosives and coatings were presented. Precautions were indicated in the handling and utilization as well as possible chemical damage, which could result when using KBS-5 crystals. The work discussed and spectra presented were accomplished on Wilkes MIR equipment with KRS-5 and Germanium crystals. Future application of the recently developed "light pipe" in MIR for the analysis of gas chromatography fractions was indicated.
---
ATOMIC ABSORPTION, ITS APPLICATION IN THE ANALYSIS OF BODY FLUIDS AND TISSUES FOB POISONOUS METALLIC ELEMENTS
Donald W. Hessel, Bio-Laboratories, Colton, California
A report was presented regarding the analysis of tissue for toxic metallic elements by Atomic Absorption Analysis. High-resolution commercial instruments for this type of analysis have been on the market for only about ten years. Several slides were shown illustrating the operation of a typical atomic absorption spectrophotometer, and of the hollow cathode tubes. An individual tube is used for each element. Over 60 lamps are available. For routine work in toxicology, tubes for Th, Pb, As, and Hg should suffice. In some toxic cases, the concentration of the metallic element is so high in stomach contents and urine that aspiration is all that is needed and the concentration of the toxic material may be determined directly. In some cases, chelating is necessary to concentrate the ions before the analysis. The chelate-ion complex is then extracted with organic solvents for analysis.
5 ml hemolyzed blood
1 ml 2% APDC chelating agent
Methylisobutyl ketone
Centrifuge--use supernatant for analysis for Pb
With urine, use about 40 ml at pH3 with same procedure. Arsenic is a bad actor by atomic absorption due to problems in energy sensitivity. Interferences may be categorized as being (l) Ionic, (2) Chemical, or (3) Matrix. Alleviation of certain problem in the analysis may result from the use of (a) a more easily ionizable substance, (b) a hotter flame for excitation, or (c) different aspiration characteristics.
---
METHAMPHETAMINE POISONING
Robert H. Cravey and Randall C. Baselt, Toxicology Lab., Office of the -Coroner, Orange County
During the 5-1/2 hours of survival following a lethal dose of methamphetamine in a 19 year old male, observation was made by police officers and finally by medical personnel. An episode of hallucination prompted medical observation, and the latter gave evidence of increasing body temperature, increased heart rate, and a state of acidosis. Autopsy findings describe large number of pigment-laden macrophages in the alveolar spaces of the lungs with the capillaries in these areas being thrombosed or the alveolar walls fibrotic. Acute pulmonary hemorrhage was noted. Marked congestion was noted in the spleen, pancreas, kidney, and liver.
Methodology is described for the identification and estimation of methamphetamine including the utilization of a Beckman model GC-5 gas chromatograph with a flame ionization detector. The column was stainless steel measuring 1/8" X 6 feet containing 1% SE 30. The flow rate of helium was 10 ml/min., and the column temperature was 115°C. The following tissue levels were obtained:
| TISSUE | Mg/100 ml or grams |
| --- | --- |
| Blood | 4.0 |
| Liver | 20.6 |
| Kidney | 8.7 |
| Brain | 14.4 |
Comparison is made to experimental work in animals and the findings in this fatal human ease.
---
CHEMICAL PREPARATIONS - A LABORATORY TOOL
James W. Brackett, Jr., San Mateo County Coroner's Office
Because much of the analysis performed by a law enforcement laboratory is comparative in nature, reference chemicals are frequently needed. Acquisition of desired standard chemical materials is usually by means of purchase or donation, but preparation of simple chemical materials such as most phenethylamines, some drug metabolites, and many other chemicals is well within the capability of the laboratory. Most preparations for which "recipes" can be found are usually available and so cheap their preparation is not worthwhile. Preparations usually are made using the "name" reactions of organic chemistry and reference to Organic Reactions (a series of books published by J. Wiley). Suitable starting materials may be located by use of Chem Sources, 9th Edition, Directories Publishing Company, 510 Madison Avenue, New York, N.Y. 10022. Prices of the same material from different purveyors may vary tenfold.
Examples of simple preparations made in our laboratory illustrating the production of derivatives to increase specificity and accuracy of analyses, the production of chemicals other than drugs with desired chromatographic properties for use of standards, the synthesis of metabolites and drugs not otherwise available, and the manufacture of amphetamines to form a basis for qualification in court were given.
The metabolites of Glutethimide and Amobarbital, homologues and isomers of Amphetamine and Methamphetamine, and 5. 5-disubstituted barbituric acids were prepared in 1/10 - 1/2 molal quantities in our program. Many of the chemicals used were acquired from illicit laboratories.
Reference was made to the use of the gas chromatograph to follow reactions as they proceed, to examine products for purity, and to test purification processes for efficiency, all of which greatly facilitates the work.
It is not recommended that all laboratories develop a synthesis program, but that the proper use of this tool will assist to keep abreast of new and unusual preparations of illicit laboratories, and be of substantial benefit to all.
---
THE QUANTITATIVE DETERMINATION OF PHENETHYLAMINE DERIVATIVES IN URINE —AN APPROACH TO SOLVING INHERENT ANALYTICAL PROBLEMS
Bryan G. Finkle and Paul Leibish, Santa Clara County Laboratory of Criminalistics and San Mateo County Coroner's Laboratory
A resume of the long recognized difficulties involved in accurately determining phenethylamine derivatives, such as amphetamine and methamphetamine; centered around the chemical and physical instability of the materials in question, was given. Much of this problem can be overcome by forming stable derivatives of these amines immediately following extraction from the urine, and subsequent analysis by gas chromatography. Methodology for acetylation and halogenation, followed by GC determination using an internal standard was presented. Note will be made of the advantages and potential of this approach. (See attachments)
ANALYTICAL PROCEDURE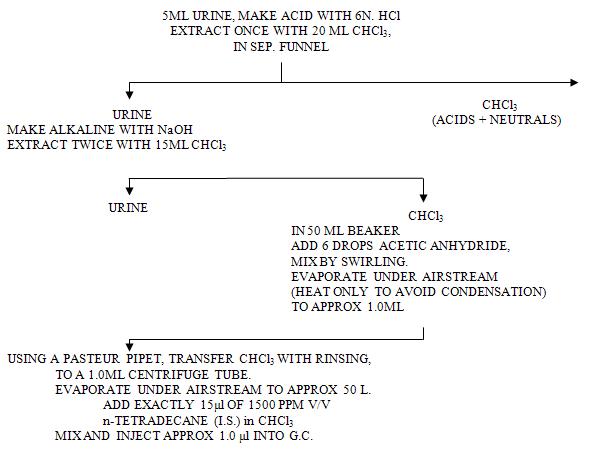 ANALYTICAL PROCEDURE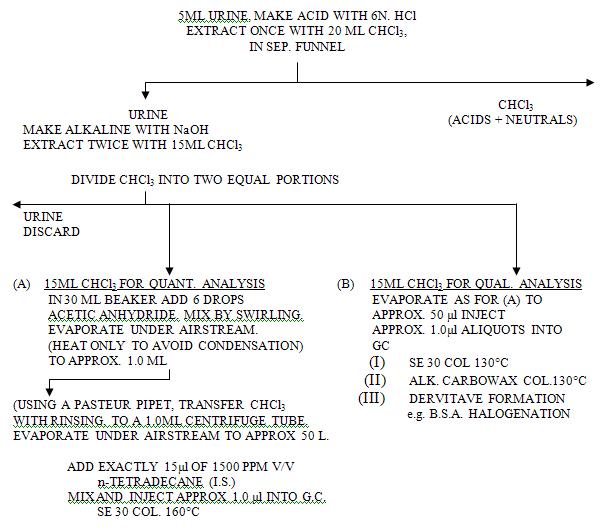 GAS CHROMATOGRAPH CONDITIONS
INSTRUMENT:
F & M MODEL 402
COLUMN:
6FT CLASS U-TUBE 6MM O.D. 2.5MM I.D. PACKED WITH 2.5% SE 30 ON 80/100 CHROMOSORB G (AW-DMCS)
COLUMN TEMP.:
160°C (+ 25°C NOT CRITICAL; -10°C CONC. ERROR 10%)
INLET TEMP:
195°C
DETECTOR TEMP:
185°C
CARRIER GAS:
NITROGEN AT APPROX 50MLS/MIN
DETECTOR:
HYDROGEN FLAME IONISATION
OPERATING SENSITIVITY:
10 x 32, RANGE X ATTENUATION, FOR CONC >5 PPM
10 x 16, RANGE X ATTENUATION, FOR CONC 1-5 PPM
RETENTION TIMES WERE AS FOLLOWS:
INTERNAL STANDARD
2.4 MINS
AMPHETAMINE DERIVATIVE
3.7 MINS
METHAMPHETAMINE DERIVATIVE
5.3 MINS
---
PANEL DISCUSSION ON THE DEVELOPMENT OF CRIME LABORATORIES
James W. Osterburg, University of California at Berkeley (Moderator), Lowell W. Bradford, Santa Clara County District Attorney's Office, Duayne J. Dillon, Contra Coats County Sheriff's Department, Anthony Longhetti, San Bernardino County Sheriff's Department, Jack W, Cadman, Orange County Sheriff's Department, and Ted Elzerman, State Bureau CII.
The moderator raised the question as to the precipitating factors in the inception of a criminalistics laboratory and suggested that these factors could possibly be categorized as falling into one or more of the following:
Untoward events, such as the St. Valentine's Day massacre which led eventually to the formation of a crime laboratory in Chicago, or the series of homicides, which eventually led to the formation of a laboratory in Pittsburgh.
Public relations gimmick.
Bradford - Santa Clara County had several unfortunate instances in which the evidence in murder cases had been mishandled. The Chief Investigator of the District Attorney's Office and Bradford had become acquainted while Bradford was working at CII. Bradford was employed as Criminalist, and the laboratory put at the DA's level; this would benefit all county agencies equally. Independent responsibility was assured for technical results. The initial equipment was a stereo microscope and a DU Spectrophotometer. The blood alcohol program has now grown to 5 to 6 thousand per year. The laboratory staff has continued to provide instruction in elements of proof, evidence, evidence collection, and laboratory capabilities. The population explosion has resulted in extreme demands being placed upon the laboratory, but financial and other support has not kept pace with the demands.
Dillon - Dillon accepted employment in San Francisco after a scandal in that Department. The District Attorney's Office refused to prosecute any cases in which the previous laboratory examiner had examined the evidence. The individual was then transferred and Dillon was appointed. In Contra Costa County, the laboratory was set up because of several mishandled cases, and the setting up of the laboratory was a campaign plank of the new sheriff. It was stressed that the success of a criminalistics program depends heavily upon the political sphere, and that a successful operation can only be achieved with a total regard to criminalistics' services.
Longhetti - The San Bernardino Crime Laboratory was organized at the same tine B. new sheriff was elected. The Sheriff's Department contacted the CAC to inquire as to guidelines for the new laboratory, and received a reply from the Executive Secretary at that time, Lowell Bradford. The laboratory is responsible directly to the Sheriff. One factor, which was considered at the time the laboratory was started, was the high cost of consultant fees, which had been paid the previous few years. The present caseload is approximately 5500 cases per year. Ten-year planning has been executed. Two factors, which are essential to the successful operation of a laboratory, are a workable chain of command and proven value of the laboratory in the first months or year of operation.
Cadmon - Although fingerprint examination had been conducted by Orange County since before 1920, and although some toxicology and firearms identification had been conducted, the laboratory as presently conceived was set up by Cadman. The precipitating factor in the decision to expand the services dealing with physical evidence with the hiring of a professional Criminalist was due to the mishandling of evidence in an important murder case.
Elzerman - The laboratory in St. Paul was in part incidental to a cleanup of the city in the 1930s. While Elzerman was working in this laboratory a reorganization of the department resulted in the laboratory being placed a few steps lover, with adverse effects resulting in areas of salaries and equipment.
---
RECENT CONSOLIDATION OF FEDERAL INVESTIGATIVE AGENCIES
Patrick Fuller, Director, U.S. Bureau of Narcotic and Dangerous Drugs, Los Angeles, California
The Bureau of Drug Abuse Control, having existed for two years, has now been merged with the Federal Bureau of Narcotics to form the Bureau of Narcotics and Dangerous Drugs, effective April 8, 1968. As of this time, the areas of responsibility and geographical boundaries of the district subdivisions have not been fully defined.
Although involved in work with narcotics for some considerable time, the Federal government became concerned over the abuse of drugs in the late 1950s, resulting in the enactment or the Federal Drug Abuse Amendments in 1965. The Bureau of Drug Abuse Control came into being at the same time.
A short history of the use and abuse of LSD was given, and it was suggested that STP (4-methyl-2,5-dimethoxyamphetamine) may prove to be the hallucinogen of the street due to the availability of the chemical precursors.
The technical training schools held in Washington, and the publication of "Micrograms" will continue under the new Bureau of Narcotics' and Dangerous Drugs.
A number of slides were shown illustrating clandestine laboratories, which had been involved in the production of LSD, DMT, and methamphetamine.
---
GROSSMONT COLLEGE PROGRAM FOR EVIDENCE TECHNICIANS
Wayne A. Burgess, San Diego District Attorney's Office, San Diego, Ca.
A brief description of the Grossmont College Program for the training of evidence technicians was presented, with slides illustrating the physical layout of the facilities at Grossmont College, El Cajon, California. An Associate in Sciences degree in Criminology-Evidence Technology is awarded after a two-year program. The curriculum includes courses in chemistry, photography, evidence, administration of justice, introduction to criminalistics, criminal law, and electives. The program is designed to prepare individuals for employment in public safety, crime laboratories, or physical evidence collection units of law enforcement agencies as evidence technicians. The program is also designed to provide training for professional law enforcement personnel who realize a need for advanced training in scientific criminal investigation. Successful graduates may transfer to four-year programs at any of the state colleges or universities offering baccalaureate degree programs in Criminalistics, Chemistry, or allied sciences. There are, at present, three people undertaking this course of instruction.
---
ETHANOL PRODUCTION IN URINE
Ronald Briglia, Allan E. Gilmore and Glenn Vaniman, Sacramento County Coroner's Office and Sacramento County District Attorney's Crime Lab
A urine sample was received in which a urine alcohol level in excess of 1% alcohol by weight was found.
Investigation of the circumstances surrounding the sample disclosed that the donor was a diabetic and could easily have removed the preservative from the specimen bottle without detection.
A pure culture of yeast was isolated from the sample received and found responsible for the fermentation of the glucose in the diabetic urine. (Experiment P-1).
Diabetic urines with four-plus sugar levels were inoculated with yeast from the original sample. In one week at room temperature and without a preservative, all samples had urine alcohol levels of 0.70% or greater. In two weeks, the majority of the samples had urine alcohol levels greater than 1% by weight. (Experiment P-2).
One and two-tenths (1.2) grams of glucose and yeast were added to sixty cubic centimeters of normal urine. Varying amounts of preservatives were added to test their effectiveness against fermentation. At least one-half gram of Sodium Fluoride or sixty milligrams of Mercuric Chloride per two ounces of urine is required to inhibit fermentation by the yeast involved. (Experiment P-3).
The danger here is that at lower urine sugar levels (one-plus and lower levels), with certain types of yeast, without preservative, at room temperature and over the weekend, urine alcohol levels in the 0.20% alcohol by weight range, more or less, could be realized from diabetic urine samples that were negative with respect to alcohol when collected, with the level of alcohol depending on the quantity of sugar in the urine.
Therefore, it is important to know that the preservative used in sample collection containers is adequate and present at the time of analysis in order to obtain a reliable urine alcohol analysis where sugar and certain types of yeast might be present.
Some experiments involving refrigerated samples will hopefully be attempted in the future.
---
RECENT FORENSIC ACTIVATION ANALYSIS STUDIES
H.L. Schlesinger and D.M. Settle, Gulf General Atomic Incorporated
The subject matter was divided into three independent sections. The latest results of research in the gunshot-residue analysis program and the paper analysis program were discussed, and some recent actual cases were described. The last section is not thought to be of sufficient general interest to merit inclusion in this summary.
Several hundred paraffin handlifts have now been analyzed. They consist of samples in two classes: handlifts removed shortly after test firings, and handlifts removed from people known not to have recently fired a weapon. Several interesting facts have emerged.
The results of earlier and recent test firings have shown that the amount of residue deposited on the hand is a function of many variables. The type of weapon used, especially the action and barrel length, show marked effects. For example, a 0.25-caliber automatic with a two-inch barrel was found to deposit more residue, on the average, than a 0.45-caliber automatic with a four-inch barrel. Also, the 0.38-special revolver with a four-inch barrel in general deposits, on the average, less residue than a 9 mm luger with approximately the same barrel length. The smallest average amounts of residue found in this study were deposited from firings of a 0.22-caliber target revolver with a six-inch barrel.
The results of tests of "blanks", that is, handlifts from people known not to have recently fired a weapon, show that some occupation groups, such as machinists and mechanics, tend to higher barium levels than the rest of the groups sampled. No single group has shown a trend toward higher antimony levels, although some individuals are found at the upper end of what is apparently a log-normal distribution.
One hundred and twenty samples of white bond paper from nine manufacturers were analyzed by means of instrumental high-flux neutron activation analysis. Many of the samples represented paper produced during the various times in the same production run. In some cases, samples from within the same run were quite similar; in other cases, they showed wide differences. It was hoped at the beginning of the study that it might be possible to identify the manufacturer of paper samples by some unique element or group of elements introduced into the paper during the manufacturing process. For one manufacturer this appeared feasible, but in general, the variation of elements from manufacturer to manufacturer does not seem to be much greater than that within various samples from the same manufacturer.
The results of this study do show, however, that there are great variations in elemental composition in this type of paper, and that this fact can be useful in deciding whether or not two samples of paper came from the same sheet or adjacent sheets in the same box.
Acknowledgement: The work reported on in this paper was carried out under a continuing research contract with the Division of Isotopes Development (U.S. Atomic Energy Commission) and the Office of Law Enforcement Assistance (U.S. Department of Justice). AEC Contract No. AT(04-3)-l67, Project Agreement No.15.