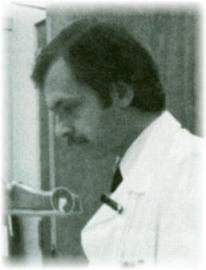 Edward F. Rhodes Memorial Award
Ed Rhodes was a long time criminalist nationally recognized for his trace evidence work, certification effort, and teaching ability. Wherever Ed went, teaching and training were not far behind. He thoroughly immersed himself in the education of forensic scientists, other criminal justice professionals, and students. His ultimate goal was competency in the criminalistics profession. This led to the CAC Certificate of Competency program and, subsequently a national certification program run through the American Board of Criminalistics. Ed believed in competency through knowledge, education, and training.
Past Recipients

2016
Yvette DeLaTorre
2015
Dante Webb
2014
Cynthia Chen
2013
Scott Becker
2012
Mo Re Choi
2011
Katerina Doneva
2010
Kirsten Fraser
2009
Christina Franks &
Nate Overlid
2008
NONE
2007
Heidi Hunsicker
2006
NONE
2005
Jamie Daughetee
2004
Eric Halsing
2003
Annette Kiewietdejonge
2002
MyLinh Phan
2001
Liane Martin
2000
Julie Leon
1999
Tiffany Kuwahara
1998
Bonnie Choy
1996
Brooke (Carpenter) Barloewen
Towards this goal, donations from friends and colleagues were made in Ed's memory and the CAC established the Edward F. Rhodes Memorial Award. The purpose of this award is to give a CAC member who is preparing for a career in criminalistics or is newly employed (less than three years) in the field of criminalistics the opportunity to attend one major forensic or scientific meeting of benefit to forensic practitioners. The award is intended to assist the recipient to pursue educational opportunities outside the normal training activities in which persons in the recipient's situation participate. Examples of forensic meetings can include, but are not limited to, CAC Semi-Annual Seminars, American Academy meetings, International Symposia, or other regional association meetings. Examples of significant scientific meetings are InterMicro and Promega. The award will cover travel, lodging, and registration expenses up to $1000. This amount may be adjusted by the Board of Directors based on income of the fund and meeting costs.
In the spirit of professionalism as exemplified by Ed, an ideal candidate should be willing to give some of himself or herself to the requested event. In the case of attending a meeting, the effort may be in time or money, but an applicant who proposes to share ideas, or otherwise participate actively in the meeting or training would receive greater consideration. The award will also include a plaque which reads: "Granted in Memory of Edward F. Rhodes III to Honor his Commitment to the Field of Forensic Science and to the California Association of Criminalists."
To apply for the Edward F. Rhodes Memorial Award, you must submit the Application Form and also request that a current CAC member complete the Sponsorship form on your behalf:
| | |
| --- | --- |
| Online Forms | Print and Mail/Fax Forms |
| (secure) | |
| (secure) | |
---
The forms are sometimes available in Portable Document Format (PDF) which allows anyone to view, save, and print it no matter which browser or computer operating system they are using. PDF files require the Adobe Acrobat Reader. For more information on Acrobat Reader, or to get it free, check out our Acrobat Reader Information page.